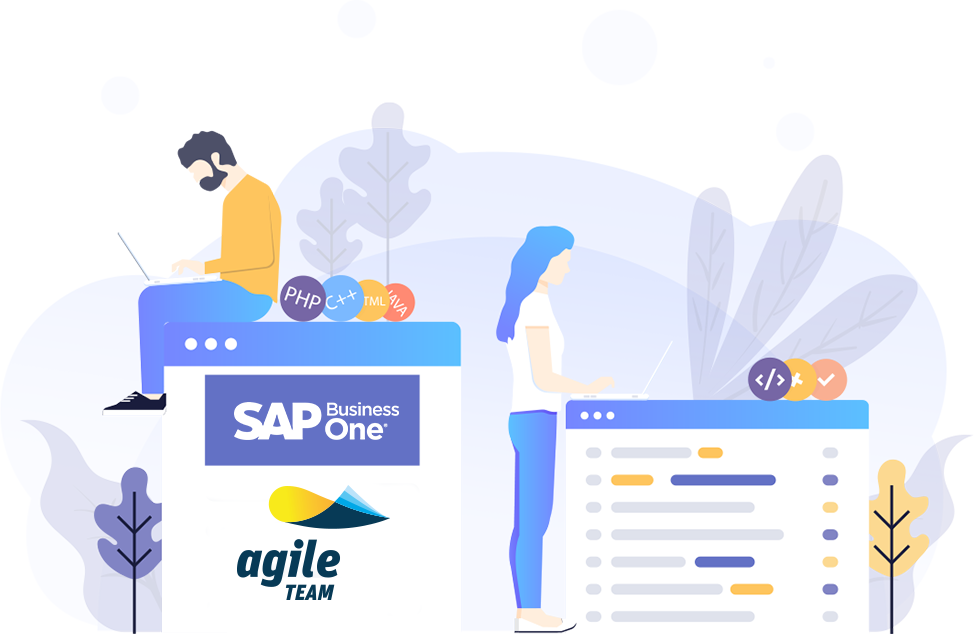 About us?
Agile Team is a team of certified companies SAP partner that offers innovative high quality and convenient services to Italian SME
Today we offer our customers an authentic alternative in the IT services thanks to our capacity to supply a complete digital transformation service SAP Business One technologies. It's what we do and how we do it that make us different!
In Agile Team, Team we personally bring our customers to success. Helping them being successful and keeping up with change. This is our motivation, these are our values!
With our national range and our experience in pur customers corporate internazionalization, , our technical competence and renovated capacity of our consultants, we are the SAP partner able to establish a new point of reference for the IT sector.
Are you ready to change the game? Start now your successful story with us!
What do we do?
Agile starts with your activity, not with your IT. We do it because we know that is fundamental for ERP successful environments. . Our consultants have a corporate background in order to understand both processes and technology and they can help to plan a system that suits you. In addition, when your corporate needs are specific for the sector, we glean from our local network to supply specific competences. Machinery and componentsi – we have a team of experts. Geolocationing sensors? – Our team can help. Production data? – We work with the main productors. Agricultural sector? – We have specialist competence to conseguently adapt your ERP.
Agile team has a very different approach. We start with your organization, your specific needs and the specific characteristics of the process transformation you have to reach. So we work with you to introduce better and more efficient functionalities to supply that result. And we do it inside a structure that enables to scale down functionalities over the time, how and when you need.
Find out how Agile Team helps to improve the relationships with customers and offer them an optimized experience.
Download our E-Book
Choose the right partner?
Confide in SAP partner for Italian SME!
The positions:
Main Contractor: : the relationship with the customer is managed by only one business in the association;
Project Manager: made available from the firm that has the Main Contractor role;
Consultants and technicians team: : the resources pool is chosen depending on the necessary skills for the project direction;
Add-On: Developed by Agile Team or other Partner partner with whom there is a consolidate and tested collaboration.
The Roadmap:
Discover: the customer acquires familiarity with SAP Business One benefits and with improvements that can descend for the business
Prepare: the foundations are layed for the project execution; the supplier and customer project team is defined, a prototype can be arranged and milestones are defined based on the result of the Environment Analysis phase
Explore: new solution Fit/Gap and Design are prepared, that have to be developed involving the business and approved by IT and business
Realize: : implementation phase that differs mainly from Greenfield and Brownfield approaches, but that keep in any case the final objective to deliver to the customer the established result in the Explore phase
Deploy: : phase dedicated to the project realization implementing to system what emerged and shared in the specification document;
Go Live: in this phase Agile Team assists the customer in the first operational weeks during which utents will be supported by «on site» consultants and fine-tuning will be implemented on the system (if necessary);
Run: in this phase Agile Team continues to assist and supervision the customer in the use of the new system up to the conclusion of the stabilisation;
AMS: supply of support activities carried out by help desk and support structure